Who We Do It For
If you need assistance, we are here for you. DJ Public Relations has a variety of clients, ranging from local non-profits to regional authorities. Their similarity is that they all need to communicate to achieve their goals. Here are a few examples.
Tampa Bay Area Regional Transportation Authority (TBARTA)
TBARTA had a mammoth goal before them. To create a regional transportation master plan for the Tampa Bay region that incorporated various types of mass transit options. It also had to incorporate (as stated in the state statute that created TBARTA) public input and insight. Thus, the PEEP (Public Engagement and Education Plan) Team was born. I was a PEEP for the northern counties in TBARTA (Pasco, Hernando and Citrus.) The PEEPs were tasked with making sure the public was involved in this master plan process throughout its creation.
For nearly two years, I took the TBARTA message to the people. Through speaking engagements, community events, media relations, and numerous one-on-one meetings with key community leaders, I shared the TBARTA vision with the people, and in turn, heard from them their concerns and ideas on transportation. The result – a Regional Transportation Master Plan that was shaped not only for the residents, but also with the help OF the residents of this region.
ExecuJet Charter Services, Inc.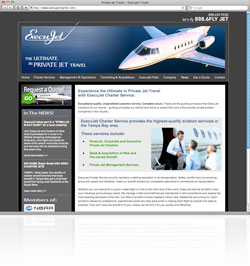 ExecuJet is the premier aircraft charter service in the Tampa Bay area, if not all of Florida. They have a first-class product and provide a first-class service. The problem? Their potential client base is very small, and with the difficult economy, it is getting smaller.
The solution? Bring on DJ Public Relations to overhaul their marketing activities and help find where those clients are hiding.
We started with a new website. We also took a closer look at the special events they were taking part in to determine how best to present ExecuJet to these potential clients. Various other marketing tactics ensued. The result? New clients…new prospects…and a new marketing outlook for this first-class company.
Wyndham Hotel – Tampa
The Wyndham Hotel – Tampa is a premier business hotel in the heart of the Westshore business district. It has built a stellar reputation with both business and leisure travelers and hopes to build on that reputation by expanding and increasing its meeting and special event business. They hired DJ Public Relations in 2009 to help it expand its reach into the world of social media and to help build awareness of its brand outside of the Tampa Bay area.
DJ Public Relations, working with the management team, has helped the Wyndham create a presence on such social networks as Twitter and Facebook that enables them to communicate with a new breed of travelers. We have also helped the Wyndham Hotel – Tampa identify key media outlets that they want to focus on in order to reach their target audiences. And we will continue to help them communicate with these target audiences to help the Wyndham extend its already strong reach into Tampa's business travel industry.
Other Work
Villa Grande on Saxon Signature Brochure
This piece was created in conjunction with a local graphic designer, Tim Lancaster.
Dayspring Village Brochure
This piece was created in conjunction with a local graphic designer, Tim Lancaster.